David & Tea
Denna veckan har mest varit snabbvisiter till stallet, men tisdagen blev en trevlig överraskning; David somnade oväntat och jag bestämde att rida dressyr på Pepper. Det var ett tag sedan jag red honom och han var full av energi. Det gjorde att det var lättare att fatta galopp från skritt än att jobba på sidvärtes rörelser. Calinka var så nöjd med att bli tömkörd och sedan var det hög tid att åka hem...
Idag blev det dressyr på Calinka, det tar emot i början, men efter ett tag går det bättre. Trots allt blev det ett kort pass - banan är så lerig att man helst undviker den nu. Därför fick Pepper och Percy busa i en av hagarna och de hade skoj; mycket fart och skutt från båda. Tea fick följa med och mocka ridbanan och Bunny blev sällskap när Mika gick på promenad.
Highlights
This week has mostly been short visits in the stable, but Tuesday turned out a nice surprise; David fell asleep at the right time so I saddle up Pepper and did some dressage with him. It was some time since I rode him last and he was full of energy. That made it easier to get canter from walk than working on lateral movements. Calinka was very happy to be long reined and then
Tea easily walks up on this - the hard part is to make a photo.
we had to go home.
Today I did dressage with Calinka. She is stiff in the beginning, but after some time it is better. But, we made it short, the arena is so muddy that it is not nice there right now. Therefore I let Percy and Pepper play in a pasture instead. They had a lot of fun, running and jumping around. Tea joined us to clean up at the arena and Bunny joined us when Mika was taken for a walk
Why don't you bring us?
Bunny can also walk on those "tree bridges"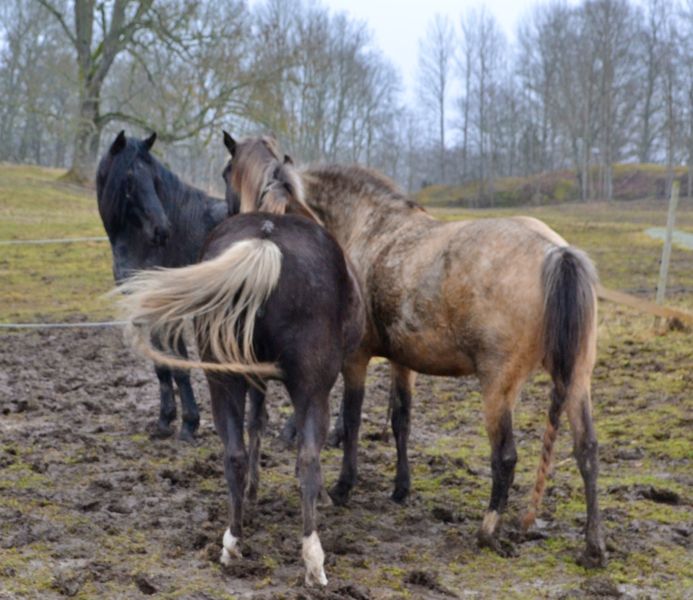 Two girls and a boy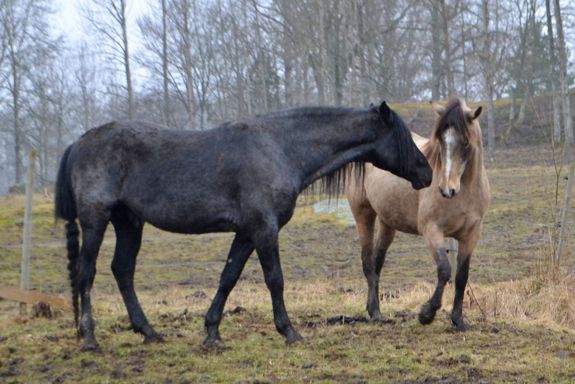 He looks rather kind, but apparently he offended Percy in some kind of way.
Bunny
.