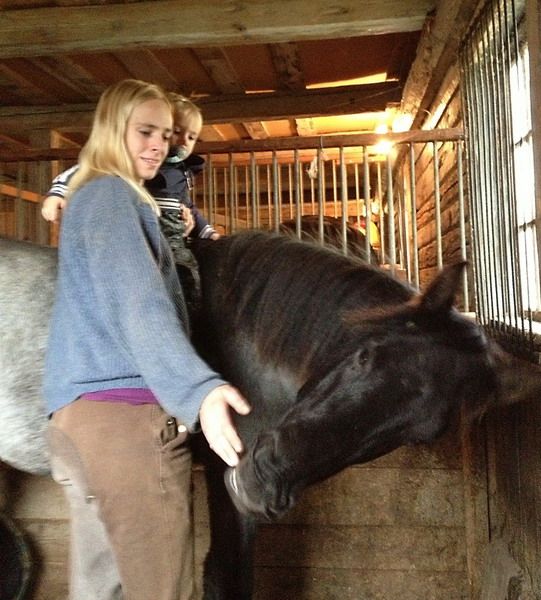 David on Teas back. She don't care much...
Nu har jag åter bevisat det - det går att på dryga tre timmar motionera alla hästarna, barnen och hunden... De flesta fick dessutom ett väldigt bra jobb. Däremot slaravdes det med borstningen. Först ut var Tea, hon fick agera ponnyridninghäst åt David. Det gjorde hon så snällt.
Sedan blev det promenad för Percy med Isac på ryggen, mig som ledare och Mika som sällskap och väl åter fick Pepper sig ett välbehövligt tömkörningspass. Allt medan David satt/sov i bärsele på min rygg. Som avslutning lät vi Bunny, Tea, Calinka och Mira springa lite i hagen. Tea och Mira hade jätteskoj (och Calinka med emellanåt). Dessutom hann jag se precis vad jag misstänkte - Bunny är kanske inte helt ren på ett bakben. Efter ett tag övertog David pisken som jag använder för att få fart på dem så då gav vi upp.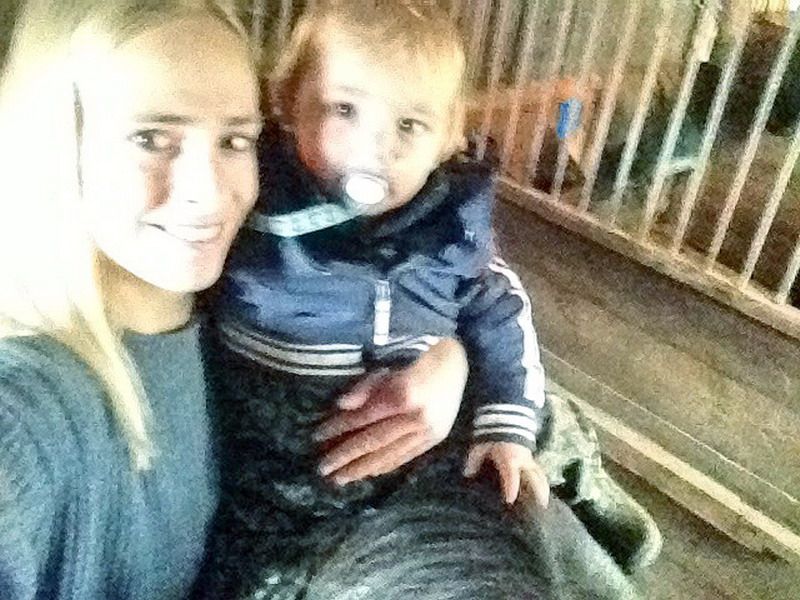 Selfie - David at Tea.
All horses, kids and the dog exercised!
I have proved it once more - it can be done in about 3 hours. Most got a very good work as well. But we was a bit lazy about grooming. First horse was Tea that got to be Davids pony. She behaved very well.
Then Percy got on a walk with Isac on her back, me holding the lead rope and Mika as a companion. Back in the stable Pepper got a good long reining session. All the time David sat/slept on my back. For final we had Tea, Bunny, Mira and Calinka to run around a little in the pasture. Tea and Mira (and at times Calinka) had a great time. I also noticed what I had got a feeling of - that Bunny isn't 100% ok in a hind limb.After some time David grabbed the whip that I use to get the horses to run so then we gave up.
Tea has grown so much.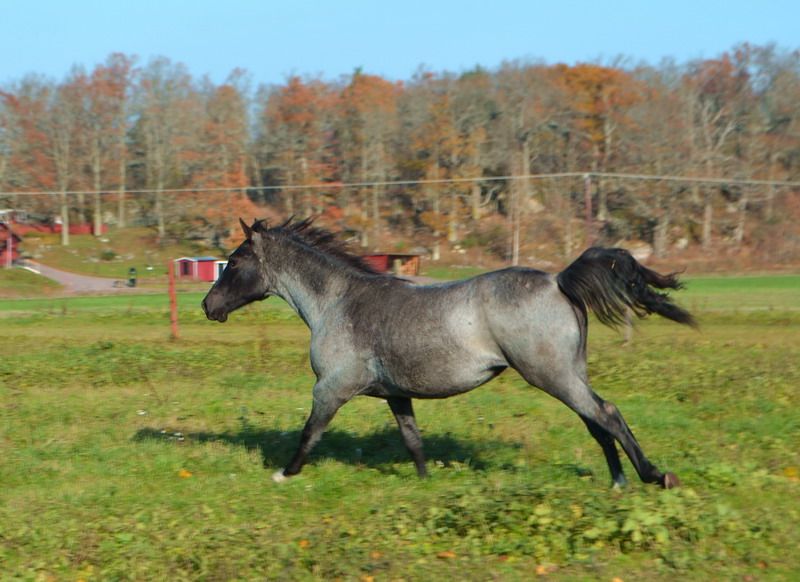 Tea
Mira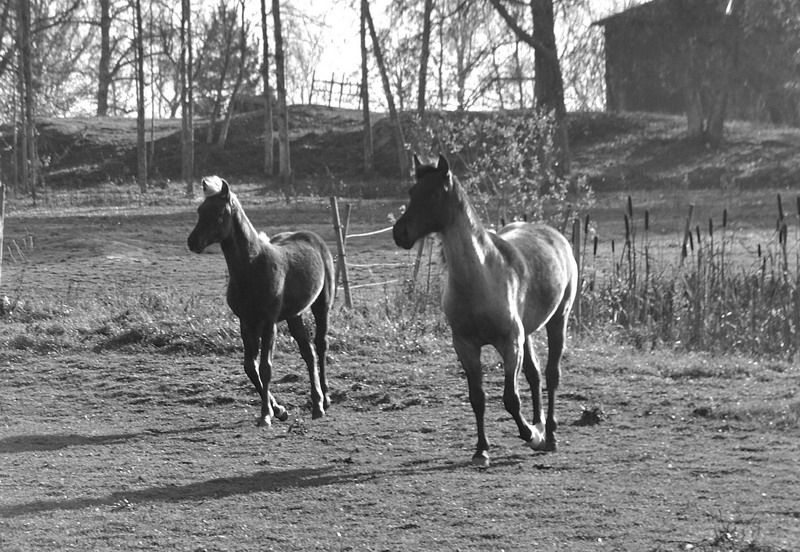 Mira & Tea
Mira & Tea in the same step, Bunny behind.


Mira, Tea & Bunny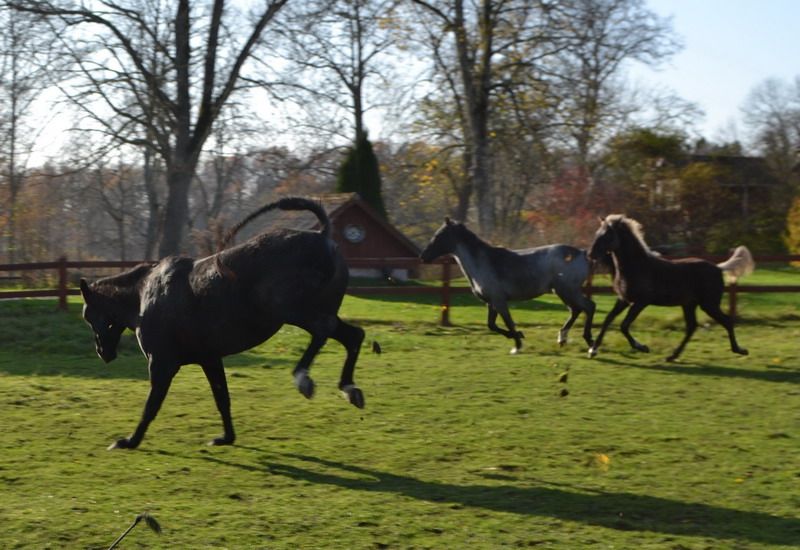 Calinka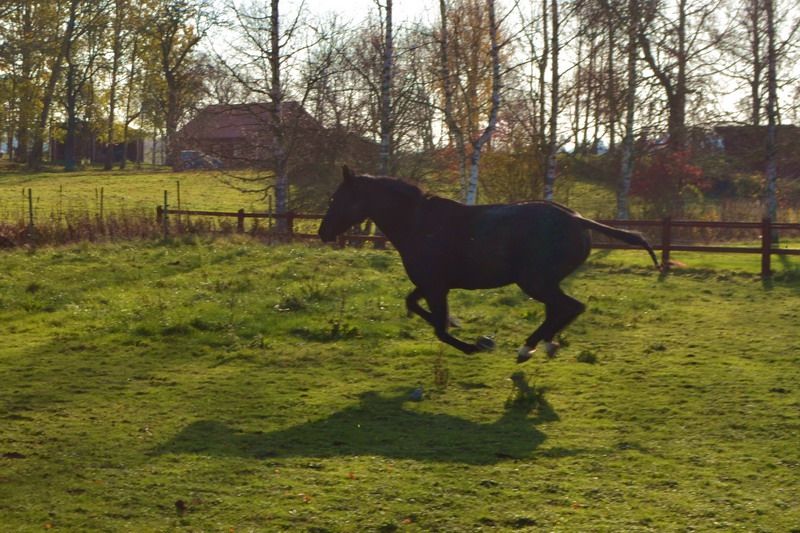 Calinka enjoying herself.
Mira
Mira
Tea
Mira & Tea