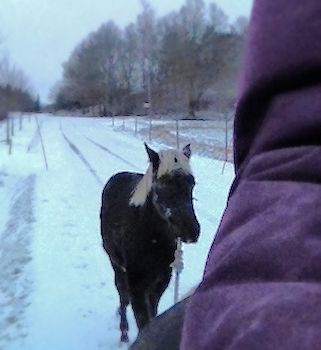 Mira
Jag tömkörde Tea iväg från stallet alldeles själv för några dagar sedan. Hon brukar gå bra på hemväg men tvekar ofta att gå iväg själv. Nu gick det bra, men tyvärr skrämdes vi av hjortar så Tea kom att tveka lite. Men, det går frammåt lite i taget. Mira fick jobba även hon - en kort tur på släp efter mamma Bunny.
I long reined Tea away from the stable all alone. She usually walk good on the way home but hesitates a little while walking away. Now she did fine but got a little scared by deers. Still, it is getting better and better. Mira also got to work - ponied after mum Bunny for a short distance.
Tea
Posing nicely when we saw the deers...